Full-time Position Available
Title:  Highway Maintenance Worker
A full-time position with great benefits, which will prepare you for career advancement in highway maintenance.
As a highway maintenance worker, you will perform various duties along the road. These include:  mowing, snow plowing, cemetery maintenance, heavy equipment operator and maintenance, flagging, setting up traffic control and work zones, patching potholes and general labor using a shovel, chain saw and more.
Minimum Qualifications:
Must have a valid driver's license
Must obtain Class B CDL endorsement without airbrake restriction within 6 months
Must be able to pass a Physical Ability Test (lift 50-100 lbs)
Must pass a criminal background check and provide random drug screens, when requested
Standard hours are Monday-Friday, 40 hours per week. Must be on call 24/7 for emergency/weather situations
Must have good character and people skills to work with the community
Handbook will be provided at time of hire
Applicants must also have an email address to apply
* Applications will be accepted through October 10, 2022. Please find the application on our Employment tab above.
---
Healthcheck Event Returns Oct. 22, 2022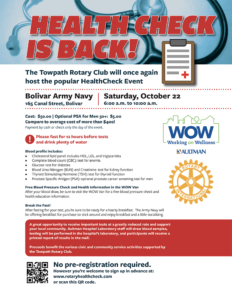 The Towpath Rotary Club will host the HealthCheck event Saturday, Oct. 22, 2022 from 6am to 10am at Bolivar Army Navy, 165 Canal Street, Bolivar.
Cost is $50 with optional PSA for men 50+ of $5.00. Payment is by cash or check only the day of the event.
This is a great opportunity to receive important tests at a greatly reduced rate. Aultman Hospital Laboratory staff will draw blood samples, testing will be performed in the hospital's laboratory, and participants will receive a printed report of results in the mail.
Proceeds benefit the civic and community service activities supported by the Towpath Rotary Club.
Pre-registration is not required, however you may sign up in advance at www.rotaryhealthcheck.com.
---
Tuscarawas County Broadband Survey
Please consider taking a short, five minute survey to help Tuscarawas County Economic Development Corporation build a strategy to expand broadband access to everyone. There is an opportunity to win a gift card for filling out the survey! Click the link below to go to the survey.
https://www.tuscedc.com/connectusc
---
***COMPOST BIN IS OPEN***
Residents of Lawrence Twp. are permitted to bring grass clippings, leaves and light brush less than 4 feet in length for disposal when the compost is open. No commercial yard waste will be accepted.
Hours of operation are seven days a week, dawn to dusk.
---
Welcome to the official website of Lawrence Township.
Lawrence Township is located in the upper portion of Tuscarawas County and includes the incorporated villages of Bolivar and Zoar.
Meetings
The Lawrence Township Board of Trustees meetings are held twice a month on the second and last Thursday of each month.

These meetings start at 7:00 pm and are held at the Township office located at 10867 Industrial Parkway NW, Bolivar, Ohio 44612.
Mailing address:  P.O. Box 190 Bolivar, OH  44612
Contact Lawrence Township at 330-874-2731  (Fax 330-874-2992)
Regular office hours are Monday, Wednesday and Friday 9:00am – 2:00 pm
---
Electric and Natural Gas Aggregation Programs
APRIL 2022: Update Volunteer Energy has been our supplier for electric and natural gas under the Lawrence Township Energy Aggregation Program, however, due to financial difficulties, Volunteer Energy Services Inc. filed bankruptcy and all agreements have been cancelled. All existing customers are being returned to our local utilities, AEP and Columbia Gas and there will be no interruption in service. AEP and Columbia Gas are mailing customers affected to advise them of this change. Our energy broker Trebel will seek competitive rates from alternate suppliers when the market is favorable. If you have additional questions, please contact Trebel LLC at 1-877-861-2772 M-F 9-5pm.
---
Donations of Trees for Walking Trail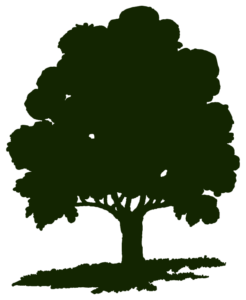 Lawrence Township is accepting tree donations along the walking trail.
You may contact a nursery of your choice. You will select a tree from the list below and purchase the tree making sure that the nursery will also be planting the tree. The nursery will contact Lawrence Township and be provided a location acceptable for the tree to be planted.
Lawrence Township will not purchase the tree on your behalf or plant the tree. We will only provide the acceptable location for the tree to be planted. Lawrence Township is not responsible for the life of the tree.
List of acceptable trees:
SMALL TREES: Improved flowering crabapples; Redbud; Winterking Hawthorn; Paperbark Maple; Serviceberry; Japanese Tree Lilac
MEDIUM TREES: Red Maple Cultivars including Pacific Sunset, Red Pointe, Crimson King Norway Maple, Zelkova, European Hornbeam.
LARGE TREES: Red Oak, Sugar Maple, Gingko; Honeylocust, Hybrid Elm, Kentucky Coffeetree.
Download a printable list by clicking this link. Walking_Trail_Tree_Donation.
---