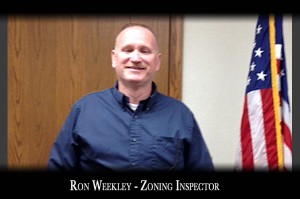 Part-time office hours:  Monday's 9a-3p, Other – evenings, by appointment
The zoning inspector's primary responsibility is the administration and enforcement of our zoning regulations.  The purpose of these regulations, in large part, is to promote and protect the health, safety and morals of Township residents and to ensure orderly growth and development.  Helping folks understand our zoning requirements and how to properly complete applications are important aspects of this job.
If you are planning to construct a home, build a storage shed, erect a sign or put in a drive way,  please be sure to call or stop by the Township Office at 10867 Industrial Parkway NW.
Lawrence Twp. Zoning Inspector

Ron Weekley – email
ron.weekley@lawrencetownship.org
Lawrence Twp. Zoning Commission members
P. Kline Chairman M. Scott Vice-Chairman J. Hafer S. Storad R. Kane
R. Eddy (alternate)
Lawrence Twp. Board of Zoning Appeals members

A. Mark, Chairman B. Neighbor A. Salapack D. Besse R. Gauding W. Woodward (alternate) F. Bachman (alternate)